โลกของเกมสล็อตเป็นโลกของความแตกต่างที่สนุกสนานเพลิดเพลิน อาจเป็นเกมที่มีธีมแปลกแต่ยอดเยี่ยม หรืออาจเป็นเกมที่มีธีมดีมากแต่น่าเบื่อ ด้วยการให้ความสำคัญกับธีม ผมพบว่าตัวเองรู้สึกสดชื่นเมื่อได้เล่นเกมสล็อตแบบเรียบง่ายมุ่งเน้นที่การเล่นเกมเพียงอย่างเดียว Fortune Multiplier คือเกมสล็อตดังกล่าว เพื่อช่วยให้คุณมีแนวคิดว่าคุณจะได้รับอะไรจากการเล่นเกมที่ดูดีจริงๆ นี้ ผมไม่ชอบที่เกมมีสีสันสว่างสดใสเพราะมันทำให้รู้สึกปวดตาแต่สำหรับเกมนี้ผมว่าโอเค อีกทั้งสิ่งที่ผมไม่ชอบมากๆ คือคุณลักษณะโบนัสพิเศษที่มีเงื่อนไขมากมายและแน่นอนมันไม่มีในเกมนี้ เพื่อไม่ให้เสียเวลาเรามาพูดถึงรายละเอียดเกี่ยวกับเกมสล็อตนี้กัน
| | |
| --- | --- |
| ซอฟต์แวร์ | Booongo Games |
| ประเภทสล็อต | วีดีโอ |
| เพย์ไลน์ (เส้นจ่ายเงิน) | 30 |
| รีล (วงล้อ) | 5 |
| มูลค่าเหรียญต่ำสุดต่อไลน์ | 1 |
| มูลค่าเหรียญสูงสุดต่อไลน์ | 1 |
| มูลค่าเหรียญต่ำสุด | 0.3 |
| มูลค่าเหรียญสูงสุด | 90 |
| ฟรีสปิน | มี หรือ ไม่มี |
ธีมสล็อต: ความสนุกสนาน
สำหรับเกมนี้ไม่สามารถบ่งบอกได้ว่าเป็นธีมอะไร ดังนั้นผมจึงให้ชื่อธีมว่าความสนุกสนาน นั่นคือสิ่งที่ผมได้รับหลังจากทดลองเล่น ภาพแบล็คกราวด์ให้ความรู้สึกผ่อนคลายเป็นสีฟ้าอ่อนไปจนถึงผนังสีส้ม เข้ากันได้ดีกับสัญลักษณ์ที่มีความสว่างเป็นประกายระยิบระยับ สัญลักษณ์บางอันมีรูปร่างเหมือนผลไม้และบางอันเป็นรูปร่างที่พบเห็นได้ง่ายทั่วไป มันทำให้ผมนึกถึงข้อความเก๋ๆของแฟรนไชส์ดิสนีย์ที่มีสีทองโค้งๆ เสียงเอฟเฟกต์ของเกมทำให้บรรยากาศในการเล่นดีขึ้น อาจเป็นเพราะผมชอบเพลงป๊อบมากเป็นพิเศษ เพลงประกอบแบบอคูสติกทำให้รู้สึกแปลก อย่างไรก็ตามนี่เป็นเกมที่ดีมีบการตีความหลากหลาย เอฟเฟกต์เสียงจริงยอดเยี่ยมมากเข้ากับเกมได้ดี ผมชอบมันจริง ๆ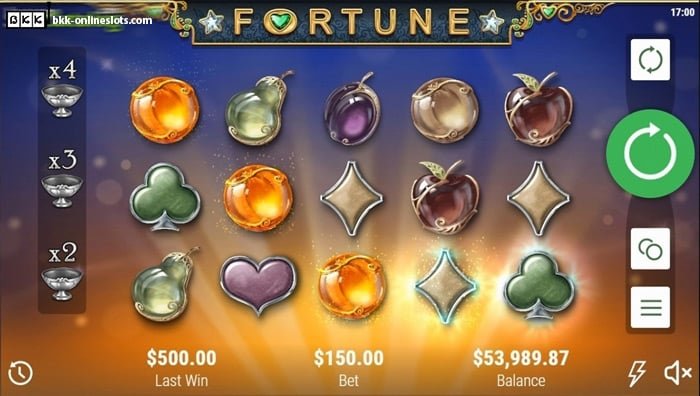 ปุ่มต่างๆ และการจัดวาง
การจัดวางเป็นแบบเรียบง่ายและใช้งานง่ายมาก ทางด้านซ้ายเป็นตัวคูณมากมาย จะมีแสงสว่างเมื่อเปิดใช้งาน ด้านล่างเป็นจอแสดงผล, ด้านขวาเป็นปุ่มกด ด้านล่างเป็นรายละเอียดของปุ่มและช่องแสดงผลต่าง ๆ
LAST WIN: ช่องแสดงผลทางด้านซ้ายสุด จะแสดงจำนวนเงินที่คุณชนะในการหมุนครั้งล่าสุด
BET: แสดงการเดิมพันสำหรับการสปินปัจจุบัน
BALANCE: แสดงจำนวนเงินคงเหลือของคุณ
SOUNDS: อยู่ด้านล่างขวาใช้เปิดและปิดเสียง
RULES: ประกอบด้วยกฎและเงื่อนไข, มูลค่าเพย์ไลน์และสัญลักษณ์ของเกม
BET: ใช้ปรับเงินเดิมพันสำหรับเกม มูลค่าสูงสุดคือ 90, ต่ำสุดคือ 0.3
SPIN: เริ่มเล่นเกมและหมุนวงล้อ
AUTO SPIN: ช่วยให้ผู้เล่นสามารถสปินได้อย่างต่อเนื่อง ตั้งแต่ 10 ถึง 1000 ครั้ง
สัญลักษณ์สล็อต
ด้านล่างนี้เป็นมูลค่าสัญลักษณ์ของเกม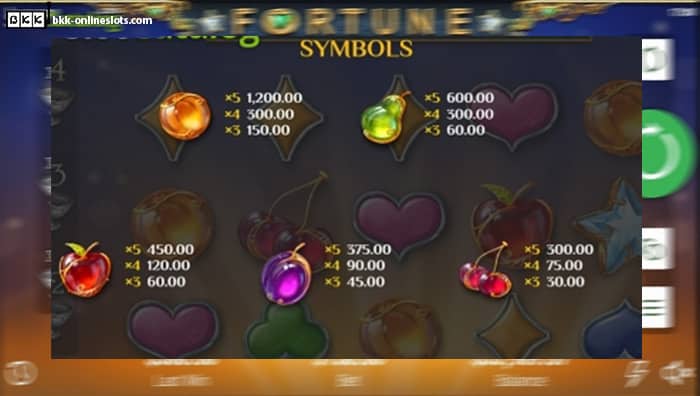 โบนัสพิเศษ
Fortune Multiplier is a solid game so far. A decent bet range, good design, and enough payline to keep players on their toes. But, to add more to the player experience they added some special features here they are:
WILD: Appears on reels 2, 3, and 4. Serves as a substitute for all the symbols in the game except the COIN, and FREE SPIN. As a bonus getting a WILD win multiplies your win depending on how many wilds there are.
FREE SPIN: Getting 2 of the star symbols win you 15 free spins. During the free spin games you can get more when the coin appears, and the vanish symbol feature is triggered.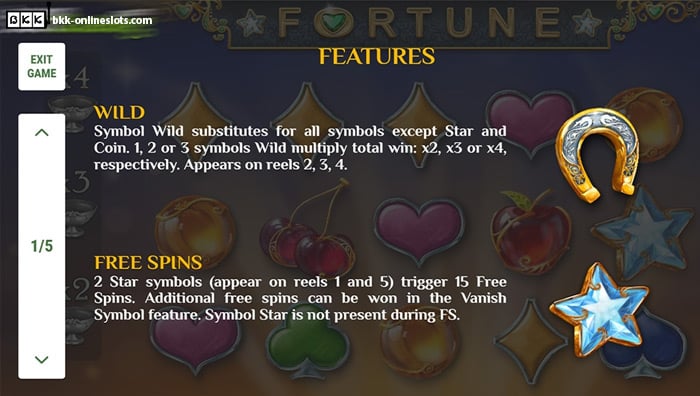 สล็อตเพย์ไลน์สำหรับ Fortune Multiplier
เกมสล็อตนี้มี 30 เพย์ไลน์ ค่อนข้างมากเมื่อเทียบกับเกมสล็อตทั่วไป นอกจากนี้มี 5 รีลและ 3 แถว เพย์ไลน์ต่างๆ ไม่สัมพันธ์กันทั้งหมด ดั้งนั้นคุณจะแปลกใจกับชัยชนะที่ได้รับแน่นอน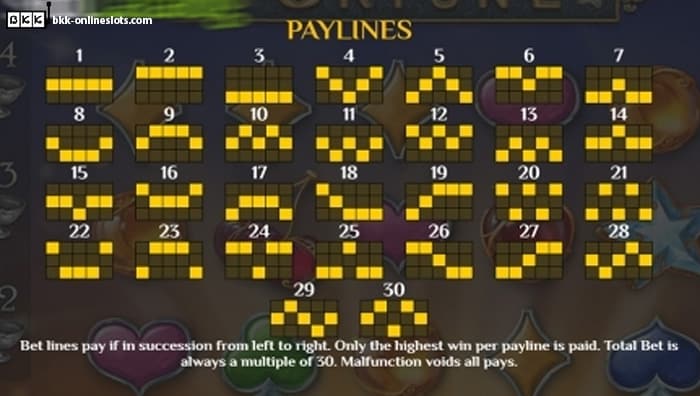 บทสรุปสำหรับเกมสล็อต Fortune Multiplier
Fortune Multiplier จาก Booongo Games โดยรวมถือเป็นเกมที่ดี สนุก,ง่าย, น่าตื่นเต้นและตรงไปตรงมา ไม่ต้องกังวลหรือคิดเกี่ยวกับโบนัสที่ซับซ้อน นอกจากนี้ยังมีข้อมูลทั่วไปซึ่งเข้าดูได้ขณะเล่นเกม การออกแบบดีเยี่ยม สัญลักษณ์แสดงผลออกแบบมาดีและใช้สีที่เป็นมิตรกับสายตา  ยิ่งไปกว่านั้นเกมยังช่วยระวังการเล่นของคุณโดยมีช่องแสดงผลที่ชัดเจนและมองเห็นได้ง่าย  ผมให้คะแนนเกมนี้ 8 จากคะแนนเต็ม 10 เนื่องจากยังมีบางส่วนที่สามารถปรับปรุงให้ดีขึ้นได้แต่เพียงเท่านี้ก็ถือเป็นเกมที่ยอดเยี่ยมแล้ว
เล่น Fortune Multiplier: